Tots at 10- Mommy and Me Program
April 11th at 10am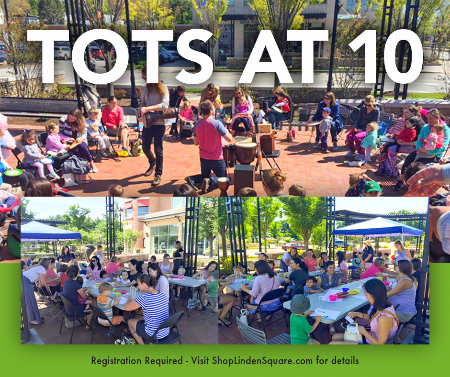 Join us for a monthly program that gets your kids moving, thinking, and creating!
Registration is required as space is limited. Registration opens 2 weeks before each program.
April 11 – Music time with Bach to Rock
May 9 – Mother's Day craft
June 13 – Father's Day craft
July 11 – Music time with Bach to Rock
August 8 – Summer Science Experiment
September 12 – Music time with Bach to Rock
October 10 – Halloween craft
November 14 – Pet craft and story-time
December 12 – Visit with Santa
By registering to attend this event you are automatically signed up for the Linden Square email club and you may unsubscribe at any time. You also agree to allow photos to be taken of you and your minors attending the event which may be used by Federal Realty Investment Trust and Linden Square for promotional purposes to include, but not limited to- marketing collateral, social media posts, email blasts, onsite signage, and leasing materials.